Jim
"Thank you ColombianCupid"
I had been to Colombia, and had seen how beautiful and nice the women are. The first day I joined ColombianCupid, I met Gladys. Wow, what a beauty. More importantly, has a heart of gold. We chatted and talked for a week every day. I had to meet her personally. She met me at the airport in Rio Negro, as soon as I saw her I knew she was the one for me. We hugged and kissed each other, and she said that I was the man for her. We spent the week in Medellin. I met her family, and everything was just as I had expected it to be. We are so in love with each other!! Before I left I asked her to marry me, and she gladly accepted. We have plans to be married in August. Thank you ColombianCupid, with your help, I found my better half.
Al
"Thanks to ColombianCupid"
Thanks to ColombianCupid for connecting me with the love of my life. The choices and accessories on the website are very easy to use and make meeting that special someone so much easier than on other sites I had previously tried. With the growing popularity of internet dating sites, ColombianCupid is by far the best of the best.
Steven
"ColombianCupid made it possible"
When I first started ColombianCupid, I had no expectations. I only knew from a friend that Colombian women were very loyal, ethical, and loving. I spoke to only a few girls, when I met Yenny. After that night, we fell in what felt like love! We spoke 4 hours every night via video chat or on the phone. I came to meet her and her parents within that same month, and it was LOVE! Wow! What an amazing feeling to find your soul mate just one continent away! ColombianCupid made it possible, and with the blessing of God we have been married one amazing year November 14th, 2009.
Steven P.
Senor roy
"We both wish to thank ColombianCupid"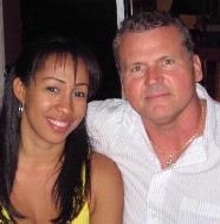 We both wish to thank ColombianCupid for providing a method for us to find our soulmates. We corresponded, talked by phone, met in person, and are now planning our wedding. We both waited many years for this day. It has arrived, thanks to ColombianCupid. We wish success to all those still searching. Cliff and Shirley.
Kim
"I met my beautiful Colombian princess here"
I think I am the happiest person in the world now… I just wanted to thank you so much for your service. I met my beautiful Colombian princess here, in the middle of December 2007. She is just so wonderful! We talked every day since that first meeting, in msn, e-mails, and letters and hour after hour in loooong phone calls. The chemistry between us is just fantastic! It was really love at first sight! I instantly knew in the very moment I saw her profile; That SHE IS THE ONE! The biggest event in our lives happened in California on the 27.06.2008 when we got married!! The Colombianas are the most sweet, cheerful and wonderful women in the world! In this moment we wait for her visa and documents for the travel. Hopefully she will be here with me very soon in Norway. Thanks again! Your service is just terrific!