Bob
"Thank you ColombianCupid!"
Thank-you ColombianCupid !!
After only a month of searching & contacting several women on your site, I saw someone who REALLY sparked my interest! Her photo & profile caught my eye. I sent her an interest & to my pleasant surprise, she responded. Her response was very sweet & genuine which is exactly what I was searching for.
We exchanged emails & photos for about a month, then decided to meet in person. We checked our schedules and I booked a flight for 3 months down the road. It was excruciating waiting that long as we passed the time getting to know each other better & better with more emails, photos & video chat/calls. I bought a Rosetta Stone Spanish course & shipped her the same course in English.
I flew to Bogota, Colombia! When I walked outside the terminal, there she was running up to me. We had no problem recognizing each other in person & immediately hugged & kissed!! We both felt like we had know each other for quite a long time. It was completely natural & even though we didn't speak the other's language, communication was NO PROBLEM AT ALL!!!
I have been searching my entire life for my special person & finding her has completely changed and fulfilled my life! We spent 6 days together, 24 hours a day. We flew to the coast and spent 3 days together, eating, shopping and even SCUBA diving! I met most all of her family & friends. We plan to start & complete the VISA process as quickly as we can so she & her son can come to the US, we can get married and spend the rest of our lives together!!
THANK-YOU SO MUCH ColombianCupid !!!!!!! You have made my life's dream come true when no one else could!!
Maria
"Thank you ColombianCupid!"
La verdad si existe el amor y con la persona que estoy se merece todo lo mejor de mi, es una persona que esta lleno de mucho amor para dar y la verdad yo estoy segura que con el voy a ser feliz muy feliz..... GRACIAS a ustedes he encontrado mi felicidad.
Carlos
"Thank you ColombianCupid!"
Thank you COLOMBIAN CUPID for the incredible opportunity to find my true love through this website, this experience has changed my life for ever and in the process i have found an incredible and wonderful woman with all the qualities I have longed for in a significant other, extremely glad to have signed up on this website to find my future wife....
Carlos
"Thank you ColombianCupid!"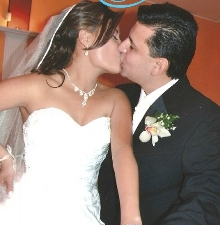 Es una de las mejores experiencias que haya tenido dure 4 meses comunicándome en Colombiancupid, fui a Colombia a conocer a mi esposa y estamos contentos Gracias Colombiancupid.